Date & Time
Sunday, December 13, 2020 - 5:30pm
Location
Virtual event; admission/access is free.
2020 NYFC Competition Winners
Winners of the 2020 NYFC Competition: Jonah Murphy (1st), Julie Nah Kyung Lee (2nd), and Hunter O'Brien (3rd) 
Estimated time: 60 minutes
Printable program (pdf) is here.
Link to YouTube video of the event:
https://www.youtube.com/playlist?list=PLO_p6ez4QlYM5sx212LdXME0_xGyQGKKO
Connection info:
The program will be livestreamed on our Facebook page:
https://m.facebook.com/NYFluteClub/live_videos/?ref=page_internal&mt_nav=0

Hunter O'Brien (third prize), flute
An Idyll for the Misbegotten (1986)                      George Crumb (b. 1929)
     for amplified flute and percussion
    (Jake Darnell, Dana Dominguez, and Brandon Lim) 
Caprice No. 1                                               Nicolò Paganini (1782-1840)
                                                                                    arr. Marina Piccinini
    (Kyung-A Yoo, piano)
Julie Nah Kyung Lee (second prize), flute; Ching Chia, piano
Ballade (1939)                                                    Frank Martin (1890-1974)
Poem (1919)                                  Charles Tomlinson Griffes (1884-1920)
Jonah Murphy (first prize), flute; Ching Chia, piano
Le Merle Noir (1952)                                   Olivier Messiaen  (1908-1992)
Sonata, Op. 23 (1987)                                   Lowell Liebermann (b. 1961)
Chant de Linos (1944)                                        André Jolivet (1905-1974)
Program subject to change.
---
Jonah Murphy is now a junior at the Manhattan School of Music, where he studies with Michael Parloff. Past honors include awards from YoungArts, Alexander & Buono International Flute Competition, the New York Flute Club Young Musicians Contest (ages 12–14 and 15–18), and the National Flute Association High School Soloist competition (finalist). He has participated in masterclasses with Stefan Hoskuldsson, Nicolas Duchamp, Mindy Kaufman, Sooyun Kim, and others, and, at Orford Music International Festival, with Robert Langevin, Julien Beaudiment, Michael Cox, Jennifer Gunn, and others. Also an active composer, Mr. Murphy has won awards from ASCAP, YoungArts, NextNotes, National Young Composers Challenge, Mata Jr., and the Chamber Music Society of Rochester [NY]. His former teachers are Laura Gilbert and Frances Brodeur, and, in composition, Kevin James.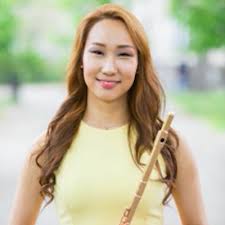 Julie Nah Kyung Lee has performed throughout the United States and Asia. She has been a winner of the Camerata Artists International Competition and the Eisenberg Fried Woodwind Concerto Competition and performed the Nielsen flute concerto with the Manhattan School of Music's Chamber Sinfonia in 2019.
Hunter O'Brien has won top prizes in the 38th Annual James Pappoutsakis Memorial Flute Competition and the 2020 Yamaha Young Performing Artists Competition. He made his Boston recital debut in September 2018 performing the Fenwick Smith Tribute Concert presented by the James Pappoutsakis Memorial Fund and has performed across New England as a member of the Boreas Wind Quintet, a 2018 New England Conservatory honors ensemble. Currently pursuing his master's degree at Rice University as a student of Leone Buyse, Mr. O'Brien received his bachelor's degree from the New England Conservatory of Music as a recipient of the Donna Hieken Presidential Flute Scholarship and a student of Paula Robison. He previously studied with Joanna Cowan White of Central Michigan University.
---

Back to Calendar