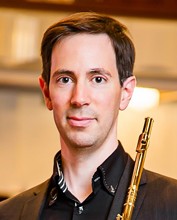 Date & Time
Sunday, December 16, 2018 - 5:30pm
Location
Engelman Recital Hall
Baruch Performing Arts Center
55 Lexington Avenue
  (entrance on E. 25th Street)
New York, New York
Aaron Goldman, flute
Lisa Emenheiser, piano
Sonatine (II. Homage à Schumann)
 
Philippe Gaubert (1879-1941)
 
 
 
Le Merle Noir    
 
Olivier Messiaen (1908-1992)
 
 
 
Canzona di Ringraziamento for flute alone (1985)
 
Salvatore Sciarrino (b. 1947)
 
 
 
Digital Bird Suite, Op. 15 (1982)
 
Takashi Yoshimatsu (b. 1953)
 
 
 
Sonata in G Major, Wq. 133 "Hamburger"
 
C.P.E. Bach (1714-1788)
 
 
 
Sicilienne et Burlesque, Op. 23 (1919)
 
Alfredo Casella (1883-1947))
 
 
 
Airs Valaques, Op. 10    
 
Franz Doppler (1821-1883)
 
Aaron Goldman's appearance is made possible in part by a generous
contribution from Brannen Bros. Flutemakers, Inc.
Program subject to change.
---
Admission: Free to NYFC members, $25 for non-members, $15 for students and seniors (65+) at the door.
---
Aaron Goldman was appointed principal flute of the National Symphony Orchestra in January 2013. An active soloist, he has performed throughout the United States and made his NSO concerto debut in 2014. Mr. Goldman joined the NSO as assistant principal flute in 2006. He was previously principal flute of the Orlando Philharmonic and began his orchestral career as acting principal flute of the Greater Lansing Symphony for the 1999-2000 season. In addition to his appearances with the NSO, Mr. Goldman has performed concertos with the Amadeus Chamber Orchestra, Virginia Chamber Orchestra, Arlington Philhar-monic, Orlando Philharmonic, and the Chamber Orchestra of Florida and has performed at several National Flute Association conventions. He appears as part of the Kennedy Center Chamber Players and KC Jukebox, and has performed with the Eclipse Chamber Orchestra, the National Chamber Players, the 21st Century Consort, and Smithsonian Chamber Orchestra and has participated in many educational programs with the NSO, including performances in the Family and Terrace Theaters.
Mr. Goldman appears regularly as guest artist at universities and flute festivals and has taught at the New World Symphony, the National Orchestral Institute, the National Youth Orchestra, the Master Players Festival, and the NSO's Summer Music Institute. He has given lectures at the Carnegie Institute and the Smithsonian Institution with programs such as "The Magical Flute" and "Math and Music: Closer Than You Think" alongside former NSO cellist Yvonne Caruthers.            
Mr. Goldman received his bachelor of music degree from the Eastman School of Music, where he studied with Bonita Boyd.
Lisa Emenheiser has been performing with the National Symphony Orchestra for the past 25 years. A graduate of Juilliard, where she earned both bachelor's and master's degrees, Ms Emenheiser is a past winner of the Young Artist in Recital and National Arts Club competitions. She made her musical debut at the age of 17 performing the Grieg Piano Concerto with the Baltimore Symphony Orchestra and "The President's Own" United States Marine Band. She has appeared as soloist with the National Symphony Orchestra, Baltimore Symphony Orchestra, Richmond Symphony, Kennedy Center Opera House Orchestra, Virginia Chamber Orchestra, Fairfax Symphony, and McLean Orchestra. She has also been featured as a soloist in numerous Kennedy Center festivals and chamber music performances. She recently shared the stage with pianist Joseph Kalichstein, performing four-hand music at the Kennedy Center's Terrace Theatre.
An avid performer of contemporary music, Lisa Emenheiser is pianist for the 21st Century Consort and a founding member of the Opus 3 Trio with violinist Charles Wetherbee and cellist David Hardy. She was featured on national television as an expert artist commentator and performer in the PBS documentary Exploring Your Brain, in which she performed Ginastera's Piano Sonata No. 1 and discussed the topic of memory with Garrick Utley. 
A committed teacher, Lisa Emenheiser was awarded the Steinway & Sons Top Teacher Award for both 2016 and 2017. She is participating this year as a piano mentor in the National Symphony Youth Fellowship program. Ms. Emenheiser has recorded for the Bridge, Albany, Decca, Pro Arte, Naxos, VAI Audio, Centaur, Arabesque, Delos, AUR, Jubal House, and Cascades labels. 

Back to Calendar