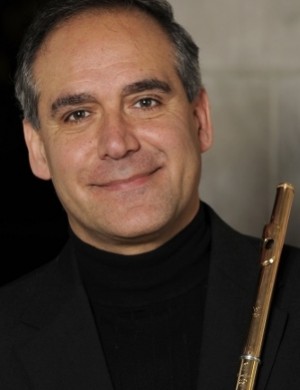 Date & Time
Sunday, November 22, 2015 - 5:30pm
Location
Baruch Performing Arts Center
55 Lexington Avenue
  (entrance on E. 25th Street)
New York, New York
Alberto Almarza, flute
Vahan Sargsian, piano
Soo-Kyung Park, flute
 
Persian Suite for flute and piano
Aria Op. 48 for flute and piano
Pathways for two flutes
Sortilege for solo flute
   New York premiere
Honami for solo flute             
Malagigi the Sorcerer for flute and piano
Reza Vali (b. 1952)
Ernst Von Dohnanyi (1887-1960)
Efrain Amaya (b. 1959)
Alberto Almarza (1927-1993)
 
Wil Offermans (b. 1957)
Efrain Amaya (b. 1959)
Program subject to change.
Alberto Almarza's appearance is made possible in part by Flute Pro Shop.
    
---
Admission: Free to NYFC members, $25 for non-members, $15 for students and seniors (65+)
at the door.
---
Described as a virtuoso flutist by the Boston Globe, Alberto Almarza brings a unique and passionate approach to music. His versatility and musicianship have led him to perform and record some of the most adventurous and challenging pieces from the music of today as well as works from the standard repertoire and baroque literature on period instruments.
A native of Chile, Almarza previously held the position of principal flute of the Philharmonic Orchestra of Santiago. He later came to the United States to study with Jeanne Baxtresser in New York and with Julius Baker at Carnegie Mellon University in Pittsburgh, where he obtained his master's degree. He currently serves on the faculty at Carnegie Mellon as associate professor of flute and head of the flute department.
His skills as a pedagogue, lecturer and recitalist have led to invitations from international festivals in the U.S., Europe, Korea and Latin America, and most recently, to perform at a TED TALK Conference. He was a resident artist and member of the faculty at the Jeanne Baxtresser International Master Classes, and has served at the National Flute Association's new music advisory and career and artistic development committees. Together with Jeanne Baxtresser, he is the co-founder of the Carnegie Mellon Flute Forum and The Consummate Flutist summer masterclass.
Almarza has appeared as soloist with the Boston Modern Orchestra Project, Memphis Symphony, BachFest Chamber Orchestra, and the Philharmonic, National Symphony, and National Chamber Orchestras of Chile, and has collaborated with such artists as Julius Baker, Andrés Cárdenes, Alex Klein, Lionel Party, Cuarteto Latinoamericano, and the Arianna String Quartet among others. As a leading proponent of new music for the flute, Mr. Almarza has been instrumental in expanding the repertoire with numerous commissions and premieres of works by composers from around the world. Pieces written for him include four flute concertos and dozens of solo and chamber works.

Back to Calendar