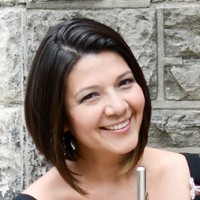 Date & Time
Sunday, November 21, 2021 - 5:30pm
Location
Virtual event; admission/access is free. Click here for access.
Alhelí Pimienta, flute
Katya Khatsko, piano
Alhelí Pimienta in a program of Mexican/Latin American music. Printable program (pdf) is here.
Read Flor Lizbeth Cruz Longoria's interview of Alhelí Pimienta in the November 2021 NYFC Newsletter.
Complimentary manuscript for free download:
Ernesto Cabrera's Cheche (for solo flute)
Concert video:
Program: Vecinos Americanos (American Neighbors)

Sonata Simple (1965)                             Joaquín Gutierrez Heras  (1927-2012, México)
La Región Más Transparente (1982)      Leo Brouwer (b. 1939, Cuba)
Vals Triste (2000)                                    Icli Zitella (b. 1966, Venezuela)
Cheche (2014) for flute alone                 Ernesto Cabrera (b. 1961, México)
     World premiere
Sonata (2010)                                         Eduardo Angulo (b. 1954, México)
     New York premiere
Program subject to change
---
Mexican-born flutist Alhelí Pimienta has performed and taught in more than 30 countries. Her latest virtual project, Yo Quiero Equal Opportunity, presents unknown and newly commissioned solo flute works by living composers of diverse backgrounds and will be released in the spring of 2022. Alhelí Pimienta has presented lectures, conferences, and masterclasses at such venues as the University of Toronto, University of Nebraska in Omaha, University of California, Berkeley, National Autonomous University of Mexico (UNAM), Puerto Rico Conservatory of Music, National Library of Catalonia in Barcelona, and American Cathedral of Paris. 
Having started her musical training at the age of seven, by age fourteen she completed her first Western European tour as second flutist of the Mexican dance company Fiesta Mexicana. During her foundational years, she studied baroque flutes, guitar, folk flutes, and music appreciation with Jesús Mora Zamarripa, Carlos Trejo, and Martín Ortíz Gurami at La Casa de la Cultura de Ciudad del Carmen, México. She studied (and continues to learn) classical flute with Luis Alfredo González and Miguel Angel Villanueva (México), Leonard Garrison and Merrie Siegel (USA), Susan Hoeppner (Canada), Pierre Yves-Artaud (France), María Gabriela Rodríguez (Venezuela), Aysha Wills (Netherlands), and Gergely Ittzés (Hungary).  
Alheli Pimienta has been a touring performing artist since the age of 11. Her international performing career has fostered a deep understanding of how diverse classical music programming affects audiences worldwide. This inspired her to curate many performances and festivals in America and to advocate for diversity in classical music. These events include large conventions such as the Toronto Latin American Flute Festival, International Flute and Piccolo Convention of Monterrey, Canadian Flute Convention, international chamber music tours, and independent productions with some of the world's most prestigious classical, folk and jazz musicians. 
Ms. Pimienta is a passionate flute teacher and founder of Flute Sprint International Studio, where she teaches 25 talented flutists from beginner to professional levels. She earned a partial Instrumental Performer degree from the Escuela Superior de Música y Danza de Monterrey, bachelor's and master's degrees from the University of Idaho, and an artist diploma from the Glenn Gould School of Music and has completed four years of doctoral studies at the University of Toronto. She is an International Yamaha Artist and performs on an 18K hand-made gold flute.
---
Katya Khatsko completed a Master of Music degree in piano performance at the University of Toronto in 2014. Born in Belarus, she graduated from Minsk Musical College in 2006. She continued her studies at the Glenn Gould School of the Royal Conservatory of Music in Toronto, where she has participated in masterclasses with distinguished pianists and pedagogues. Ms. Khatsko has presented chamber repertoire with many instrumentalists and groups. In addition to her accompanist job with the Mississauga Children's Choir, she is the music director at Dixie Presbyterian Church and a piano teacher at the Lane School of Music in Etobicoke, Ontario.
 

Back to Calendar