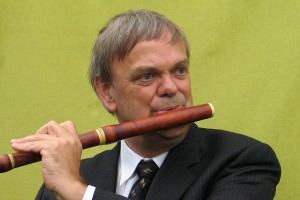 Date & Time
Sunday, March 12, 2017 - 6:00pm
Location
Faculty House at Columbia University
(Enter through Wien Courtyard, off 116th Street between Amsterdam Avenue and Morningside Drive)
New York, New York 10027
Barthold Kuijken, guest artist, Flute Fair
Barthold Kuijken, baroque flute
Dongsok Shin, harpsichord
Barthold Kuijken is the guest artist for the 2017 New York Flute Fair.
Sonata in D-Major HWV 378
Georg Friedrich Handel (1685-1759)
Sonata in E-Minor BWV 1034
Johann Sebastian Bach (1685-1750)
Methodical Sonata IV in D-Major TWV 41:D3
Georg Philipp Telemann (1681-1763)
Carl Philipp Emmanuel Bach (1714-1788)
Sonata in B-Minor BWV 1030
Johann Sebastian Bach (1685-1750)
 Program subject to change.
---
Barthold Kuijken (baroque flute and recorder) was born in 1949; he grew up in a musical environment: two of his elder brothers were studying music and became increasingly interested in early music and early instruments. He studied modern flute at the Bruges Conservatory and the Royal Conservatories of Brussels and The Hague. For playing early music he originally turned to the recorder, but while still studying, he had the good fortune of finding a splendid original baroque flute, which became in fact his best teacher. Research on authentic instruments in museums and private collections, frequent collaboration with various flute and recorder makers, and assiduous study of 17th-, 18th- and 19th-century sources helped him to specialize in the performance of early music on original instruments.
At the same time, on the Boehm-flute, he was a member of the Brussels-based ensemble "Musiques Nouvelles", focusing on avant-garde music. Soon he started to play with his brothers Wieland (viola da gamba and baroque cello) and Sigiswald (baroque violin and viola da gamba), with René Jacobs (countertenor), Paul Dombrecht (baroque oboe), Lucy van Dael (baroque violin), and with the harpsichordists Robert Kohnen and Gustav Leonhardt, more recently also Bob van Asperen and Ewald Demeyere. For many years he was baroque flutist in the orchestras "Collegium Aureum" and, later, in "La petite Bande", the baroque orchestra conducted by his brother Sigiswald. He plays concerts all over the world, extending his repertory to early 19th-century music (with the fortepianists Luc Devos and Piet Kuijken) or occasionally to Debussy. He has recorded extensively for various labels: Sony classical, Harmonia Mundi - BMG, Philips - Seon, Accent, Arcana, Atma, Opus 111.
Besides his activities as a flute and recorder player, he is appearing more and more often as a conductor (f.i. with the Indianapolis Baroque Orchestra, of which he is the artistic director). His scholarly work includes articles in various journals, a new annotated Urtext edition of J.S. Bach's flute compositions (Breitkopf & Härtel) and the Critical Edition of the six C.P.E. Bach flute concertos for the C.P.E. Bach Collected Works Edition (Packard Humanities Institute). In 2014 he retired from the Royal Conservatories of The Hague and Brussels, where he had been teaching baroque flute since 1976, resp. 1975. He is often invited to serve as guest professor or as a jury member in international competitions. In 2007 he obtained a PhD in the Arts at the VUB (Brussels University); in 2013 he published The Notation Is Not the Music – Reflections on Early Music Practice and Performance (Indiana University Press). The National Flute Association presented him the Lifetime Achievement Award in 2013.
---
---

Back to Calendar