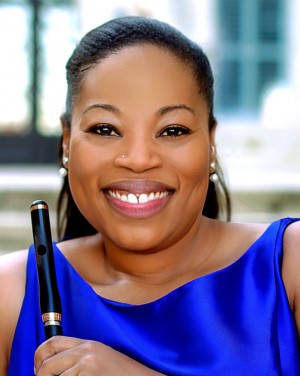 Date & Time
Sunday, December 4, 2022 - 3:30pm
Location
Good Shepherd-Faith Presbyterian Church, 152 West 66th Street, NYC.
Ebonee Thomas masterclass
Ebonee Thomas, second flute/piccolo in the Dallas Opera and assistant professor of flute at University of Missouri-Kansas City, will be giving a pre-concert masterclass from 3:30 to 4:30 pm prior to her 5:30 pm recital at the same location. Jessica Taskov is the masterclass coordinator. 
The three performers:
Dahye (Annie) Jung is a first-year graduate student at New York University, studying for an MM in instrumental performance under Soo-Kyung Park. She earned BM degrees in secondary education and flute performance at the University of British Columbia and a Royal Conservatory of Music ARCT diploma in piano performance. 
Emily Leng is an eighth-grader from Princeton, NJ and has been playing the flute for six years. She currently studies with Tanya Witek and is first chair in her school's jazz band and symphonic band. 
Courtney Conkling, a longtime Long Islander, will complete a BA in music from Hofstra University in December 2022 after studies at the Crane School of Music (at SUNY Potsdam) and the Blair School of Music (at Vanderbilt University). She currently studies with Jessica Aura Taskov.
We hope to see you there!
Admission: Free to members. Non-member rate (concert included) is $25 general, $15 students/seniors.

Back to Calendar