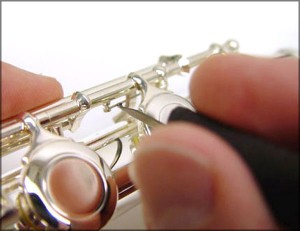 Date & Time
Sunday, February 24, 2019 - 2:00pm
Location
Sunday, February 24, 2019, 2:00-4:00 pm
Mannes School of Music
55 West 13th Street, Room 350 (third floor)
Flute Repair 101 with David Samperi
Master flute repairman David Samperi will offer a class on basic repair techniques as well as important basic skills necessary to take care of your flute. Some of the topics he will cover include:
Headjoint cork placement and removal 
How to disassemble the keys
The proper tools necessary to work on the flute
What a connection is and how to adjust a key on the flute
Spring tension and how to balance left to right sections.
Participants will be able to practice basic techniques. Bring your own flute and tools if you have them. We will have some student flutes available to work on. Simple tools will be available for purchase.
Open only to NYFC members—no charge. Pre-registration recommended (fill out form at the bottom of this page).
---
Flute repair expert David Samperi studied at the Performing Arts High School in New York City and continued at the Boston Conservatory, studying flute performance with Bill Grass. He finished his degree at SUNY Purchase with Elizabeth Mann. After several years training with Muramatsu Flutes and Chris McKenna, Samperi opened his own shop, Flute Perfection, in Haworth, NJ in 2009.
---
Registration Form
Note: The class is now filled; registrations received after 8:30 am Wednesday, February 20, 2019 will be wait-listed.
New York Flute Club members wishing to attend this class are advised to pre-register using the form below. Seating is limited. You will be notified prior to the class if your form is submitted after the class is filled.
Submit

Back to Calendar