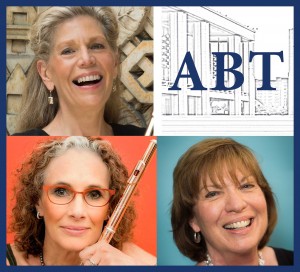 Date & Time
Sunday, February 19, 2023 - 5:30pm
Location
Engelman Recital Hall
Baruch Performing Arts Center
55 Lexington Avenue
  (entrance on E. 25th Street)
New York, New York
Flutists of the American Ballet Theatre
Judith Mendenhall, flute
Karen Purpura, flute
Diva Goodfriend-Koven, flute
David LaMarche, piano
---
Video clips from the pandemic year below.
Program subject to change
---
Diva Goodfriend-Koven has performed worldwide as a soloist, in chamber music, and with major orchestras including the Metropolitan Opera Orchestra, New York Philharmonic, , New Jersey Symphony, NYCity Opera, Orpheus Chamber Orchestra, Hong Kong Philharmonic, Brooklyn Philharmonic, and St. Luke's Chamber Orchestra. She is a longtime member of the ABT Orchestra, American Composers Orchestra, and the American Symphony Orchestra. She is a founding member of the contemporary music group Locrian Chamber Players and Ragdale Ensemble and a former member of the Borealis Woodwind Quintet. She has performed with Serenata Santa Fe for six seasons. Diva Goodfriend-Koven has recorded numerous film scores and recorded CDs with pop stars including Sting and John Legend. She has appeared on the Letterman show and SNL and in live shows with Sting, Diana Krall, Willie Nelson, Lena Horne, and Luciano Pavarotti.  Ms. Goodfriend-Koven has been a member of the Bard Music Festival for thirty years. She has coached and taught master classes at Manhattan School of Music, Mannes School of Music, Montclair State (NJ), and Carnegie Mellon University. She was a faculty member at the Apple Hill Music Center for ten years.
Judith Mendenhall is the principal flutist of the American Ballet Theatre Orchestra and a member of the Berkshire Bach Ensemble. She has appeared in thirteen nationwide Musicians from Marlboro tours and was a founding member of the Music Today Ensemble and the Naumburg Award-winning Aulos Wind Quintet. Her principal flute positions include the New York Chamber Symphony and the Mostly Mozart, Grand Teton, and Colorado Festival Orchestras. She was the recipient of the 2016 Distinguished Teaching Award from the New School University and Mannes, where she is wind department chair and faculty. She is also on the faculty of Queens College. Her annual summer festivals include the Interlochen Flute Institiute, Aria Summer Music Academy, and a master class-recital tour of Taiwan every two years. She has recorded for Columbia Records, Delos, Vox, Bridge, Koch, CRI, and the Marlboro Recording Society.
Karen Purpura is a member of the American Ballet Theatre Orchestra, Cecilia Orchestra, and Teatro Grattacielo. Before joining ABT, she held the piccolo chair with the New Jersey Symphony and was a member of  the Brooklyn Philharmonic and the Long Island Philharmonic and performed regularly with the New York City Opera and on Broadway. Karen Purpura graduated from Juilliard, where she studied with Arthur Lora. She began her flute studies at the Settlement Music School in Philadelphia, where she studied with Murray Panitz and won the student competition to solo with the Philadelphia Orchestra. 
Pianist David LaMarche has been working as a conductor in the field of dance for 35 years, with a repertoire of more than 150 ballets. He is currently on the staff of American Ballet Theatre, and is the music director of the Paul Taylor Dance Company. As a writer, Mr. LaMarche is a contributor to New York Concert Review and Ballet News.
---
Judith Mendenhall et al. in SLEEPING BEAUTY: Bluebird pas de deux

Diva Goodfriend-Koven et al. in SLEEPING BEAUTY: Canary Variation

Back to Calendar