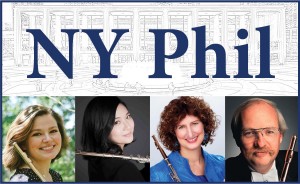 Date & Time
Sunday, December 15, 2019 - 5:30pm
Location
Engelman Recital Hall
Baruch Performing Arts Center
55 Lexington Avenue
  (entrance on E. 25th Street)
New York, New York
Flutists of the New York Philharmonic
Robert Langevin, Alison Fierst, Yoobin Son, Mindy Kaufman, flutes
Linda Mark, piano
Grand Quartet, Op. 103 (1830) 
 
Friedrich Kuhlau (1786-1832)
     IV. Rondo
Robert Langevin, Alison Fierst, Yoobin Son, and Mindy Kaufman, flutes
 
 
 
Aria, Op. 48, No. 1 (1958)
 
Ernst von Dohnányi (1877-1960)
Alison Fierst, flute; Linda Mark, piano
 
 
 
Sinfonische Kanzone, Op. 114 (1917)
 
Sigfrid Karg-Elert (1877-1933)
Yoobin Son, flute; Linda Mark, piano
 
 
 
Sonatine (1937)
 
Philippe Gaubert (1879-1941)
     Allegretto, très allant; Andante quasi adagio (Hommage à Schumann)
Mindy Kaufman, flute; Linda Mark, piano
 
 
 
Improvisation and Burlesque 
 
Antonio Lora (1899-1965)
Robert Langevin, flute; Linda Mark, piano
 
 
 
Rondo Capriccioso (1916)
Robert Russell Bennett (1894-1981)
Robert Langevin, Alison Fierst, Yoobin Son, and Mindy Kaufman, flutes
Program subject to change.
---
Admission: Free to NYFC members, $25 for non-members, $15 for students and seniors (65+) at the door.
---
Alison Fierst joined the New York Philharmonic as associate principal flute in September 2019, having previously held the position of second flute in the Rochester Philharmonic Orchestra. Ms. Fierst has been a fellowship recipient at the Aspen Music Festival and School, where she performed with the Aspen Festival Orchestra. An active soloist, her honors include second place in the 2017 National Flute Association Young Artist Competition and first place in the 2017 Flute Society of Greater Philadelphia Young Artist Competition.
Mindy Kaufman joined the New York Philharmonic in 1979 at age 22, after playing for three years with the Rochester Philharmonic. She graduated from the Eastman School of Music, where she studied with Walfrid Kujala, James Galway, and Bonita Boyd. Ms. Kaufman has performed as a soloist with the New York Philharmonic and for one season substituted as principal flute with the Milwaukee Symphony.
Robert Langevin joined the New York Philharmonic as principal flute in 2000. He was previously principal flute of the Pittsburgh Symphony Orchestra and taught at Duquesne University. He served as associate principal of the Montreal Symphony Orchestra for 13 years and as a member of Musica Camerata Montreal and l'Ensemble de la Société de Musique Contemporaine du Québec premiered many works. Mr. Langevin is on the faculties of the Juilliard School, the Manhattan School of Music, and the Orford International Summer Festival. 
Yoobin Son became a member of the New York Philharmonic in November 2012, the first Korean to join the orchestra's woodwind section. She has also served as principal flute of Lincoln Center's Mostly Mozart Festival Orchestra and principal flute of the New Haven Symphony Orchestra. Ms. Son is also an active soloist. She has performed with orchestras including the Seoul Philharmonic, New Haven Symphony and New Jersey Symphony Orchestra. She has also appeared in recital on the Dame Myra Hess Memorial Concert Series in Chicago, the Young Artist Series of the Kumho Asiana Cultural Foundation in Seoul and at the Marlboro Music Festival in Vermont.
---

Back to Calendar