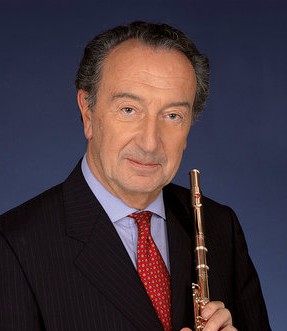 Date & Time
Sunday, April 8, 2018 - 5:30pm
Location
Engelman Recital Hall
Baruch Performing Arts Center
55 Lexington Avenue
  (entrance on E. 25th Street)
New York, New York
Maxence Larrieu, flute

Program subject to change.
---
Admission: Free to NYFC members, $25 for non-members, $15 for students and seniors (65+) at the door.
---
Maxence Larrieu was born in Marseille on October 27, 1934 and is known as one of the best representatives of the French flute school of flute playing. As a youth in Marseille, Larrieu was taught by Joseph Rampal, whose accomplished students also included Jean-Pierre Rampal and Alain Marion.
At the Paris Conservatory, Larrieu earned a first prize in flute with Gaston Crunelle in 1951 and a first prize in chamber music in 1953. From 1954 to 1966, he was solo flutist for the Comic Opera of Paris, until leaving for the orchestra of the Paris Opera. In 1978 he left the Paris Opera to teach at the National Music College of Geneva and the National Superior Music College of Lyon.
Composers who have written for him include Serge Lancen, Marcel Landowski, Jean Rivier, Marc Carles, and Lionel Rogg. He has also given many performances of Francis Poulenc's Sonata with the composer at the piano. He also recorded at Poulenc's Aubade with Sviatoslav Richter and Jean-François Paillard's chamber orchestra.
A highlight of his years as solo flute with the Paris Opera was performing with Maria Callas in Bellini's Norma under the direction of Georges Prêtre in May/June 1964. His more than 100 recordings include performances with the orchestras of Prague, Munich, Cologne, Monte Carlo, and I Musici, L'Ensemble Instrumental of France, the Orchestra of Sarre, and the Philharmonic of Turin.
His musical collaborators have included Arthur Grumiaux, Rafael Puyana, Bruno Canino, Gabriel Tacchino, Suzanna Mildonian, Maurice André, Jean-Pierre Rampal, Lili Laskine, Robert Veyron-Lacroix, and Maurice André. He has performed at music festivals in Osaka, Montreal, Sydney, Aix-en-Provence, Salzburg, Prague, Bratislava, Roma, Barcelona, and Prades. He has given masterclasses in Japan, Korea, China, the US, and all over Europe and has been a member of the jury for competitions including the Kobe, Carl Nielsen, Munich, Prague, and Budapest. He was president of the Jean-Pierre Rampal Competition in 2001. He is also the longtime artistic director of a summer concert series at the abbey of San Futtuoso di Camogli Ligurie.

Back to Calendar