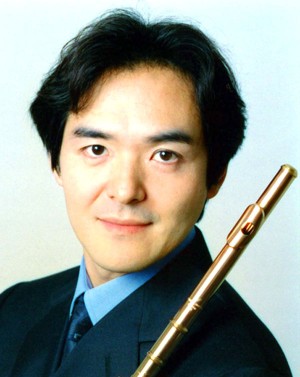 Date & Time
Sunday, September 17, 2017 - 5:30pm
Location
Engelman Recital Hall
Baruch Performing Arts Center
55 Lexington Avenue
  (entrance on E. 25th Street)
New York, New York
Nobutaka Shimizu, flute
Music by Ryohei Hirose, Etsuko Hori (for piccolo), Dutilleux, Debussy, Widor, and Schocker (written for the performer).

Program subject to change.
---
Admission: Free to NYFC members, $25 for non-members, $15 for students and seniors (65+) at the door.
---
Nobutaka Shimizu studied with famous Japanese flutist Ririko Hayashi as a young child. He then studied with Ryu Noguchi at the Toho Gakuen Music High School and the Toho Gakuen University of Music in Tokyo. In 1977, while still a university student, Mr. Shimizu became a member of Tokyo's Yomiuri Nihon Symphony Orchestra. In 1986, after additional studies with Julius Baker at the Juilliard School, he was invited to play in the Kyoto Symphony Orchestra and eventually was appointed principal flute.
 
Apart from his orchestral career, he has appeared as soloist in concerts at flute conventions and festivals throughout Japan, in the US, and the United Kingdom and in concerts in cities across the world. Mr. Shimizu has also been invited to be on the panel of judges at competitions, such as the Maxence Larrieu International Flute Competition and the Leonardo de Lorenzo International Flute Competition. 
Mr. Shimizu's CD, "Brilliance of Paris," has been released in Japan, and his friendship with French composer/pianist Jean-Michel Damase led to the flutist's opportunity to perform the world premiere of Damase's Sonate en Concert. 
 
He is currently a professor in the music department of Soai University, a visiting professor at Showa Music University, and vice president of the Japan Flute Association.

Back to Calendar