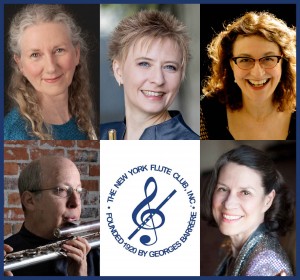 Date & Time
Sunday, February 28, 2021 - 5:30pm
Location
Virtual event; admission/access is free. Click here to join the Zoom webinar.
Solo Flute Spectacular
Solo Flute Spectacular with Lisa Bost-Sandberg, Bonita Boyd, Stephanie Jutt, Alexa Still, and Paul Taub
Estimated time: 60 minutes
Related newsletter material here.
Printable program (pdf) is here.
Link to YouTube video of the event here.
Connection info:
Please click the link below to join the webinar:
https://zoom.us/j/97366380998?pwd=YWdIRGF5dTgvTThSZFl5dFY0cFpKUT09
Passcode: 040091
Or iPhone one-tap : 
    US: +19292056099,,97366380998#,,,,*040091#  or +13017158592,,97366380998#,,,,*040091# 
Or Telephone:
    Dial(for higher quality, dial a number based on your current location):
        US: +1 929 205 6099  or +1 301 715 8592  or +1 312 626 6799  or +1 346 248 7799  or +1 669 900 6833  or +1 253 215 8782 
Webinar ID: 973 6638 0998
Passcode: 040091
    International numbers available: https://zoom.us/u/abiZoGWa7N

Barang I (1974)                                        Barbara Benary (1946-2019)
Air in G Minor (1947)                                Lou Harrison (1917–2003)  
Paul Taub, flute
Joseph Adam, portative organ (drone)
El Canto de Guirahú from Ballet de Panumbrí (1937)      Alberto Ginastera (1916-1983)
El Bachiano (2017)                                                           Raimundo Pineda (b. 1967)
Stephanie Jutt, flute 
Sequenza (1958)                                                Luciano Berio (1925-2003)
when it rains / the river stands still (2006)          Lisa Bost-Sandberg (b. 1982)
Lisa Bost-Sandberg, flute and alto flute
Selections from Les Chants de Nectaires (1944)   Charles Koechlin (1867-1950)    
Sonatine (1948)                                                      Henri Tomasi (1901-1971) 
Alexa Still, flute
Sonata, Op. 24 (1957)                                            John La Montaine (1920-2013)
Bonita Boyd, flute 
Program subject to change
---
Lisa Bost-Sandberg is a flutist, composer, and improviser deeply committed to contemporary music as well as its rich roots in the classical repertoire. She is on faculty at the University of North Dakota and serves on the NFA board of directors. Recent engagements include featured guest artist for the 2020 Seattle Flute Society Horsfall Competition, performing Mozart's Concerto in G Major with the Greater Grand Forks Symphony Orchestra, and a 20th/21st-century solo tour program titled "Fire and Flight." Bost-Sandberg has toured internationally and has recorded on the Albany, GIA, and North Texas Jazz labels. lisabost.com
Bonita Boyd succeeded her teacher Joseph Mariano as principal flutist of the Rochester Philharmonic and flute professor at the Eastman School of Music. She also served as principal flutist of the Chautauqua Symphony, Filarmonica de las Americas (Mexico City), and Aspen Festival Symphony Orchestra. She has been a member of the artist faculties of the Chautauqua, Bowdoin, Johannesen International, Hamamatsu Seminar (Japan), and Aspen Music Festivals. A Fulbright Grant recipient, Boyd has premiered numerous works and has made the premiere recordings of many others. She served as president of the National Flute Association and received the NFA's Lifetime Achievement Award and Eastman's Eisenhart Award for Excellence in Teaching.
Stephanie Jutt is artistic director of the Bach Dancing and Dynamite Society (www.bachdancinganddynamite.org), a three-week chamber music festival that will present its 29th season in 2021 in Madison, Wisconsin. Her recent recordings include Latin American and Spanish Masterpieces for flute and piano and Seducción (Albany) and Brahms Sonatas (Centaur). Jutt is professor emerita at the University of Wisconsin-Madison Mead-Whitter School of Music, where she taught flute for 27 years. She has served as a National Flute Association board member and convention program chair. Jutt is a music editor for International Music, for which she has created transcriptions of three Brahms clarinet and violin sonatas, Mozart violin sonatas, and the Dvorak American Quartet and scholarly editions of the Reinecke Sonata and Karg-Elert Caprices.
Alexa Still, Oberlin Conservatory's flute professor, is from New Zealand and won the New York Flute Club's Competition a long time ago. Other awards include a Fulbright grant. Ms. Still returned home as principal flute of the New Zealand Symphony Orchestra. After 11 years, she left to focus on teaching and her solo career, including 20-plus recordings on multiple labels and performances in 16 countries (including premieres). Regular summer engagements include Orford Musique (Quebec), Aria Academy (MA), and Round Top Music Festival (TX). Still has also been president, program chair, and a board member of the NFA.
Paul Taub is a leading proponent of music of our time. Professor Emeritus at Cornish College of the Arts, where he taught for 39 years, he was a founding member and executive director of the Seattle Chamber Players and a founder of the IWO Flute Quartet. Active in musical projects with former republics of the Soviet Union, Taub has recorded extensively, including two solo CDs. He has served on the board of directors of Chamber Music America and the National Flute Association and has recently been appointed commission coordinator for the NFA. His teachers include Marcel Moyse, Samuel Baron, Michel Debost, and Robert Aitken.
---

Back to Calendar