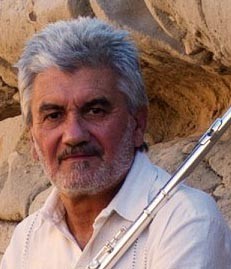 Date & Time
Thursday, February 17, 2022 - 7:00pm
Location
Virtual event; admission is free. Register here.
Tango! with Marcelo Alvarez
The February installment of the NYFC's "I Just Wanna Play!" Series
Estimated duration: 45 minutes
Tango! the language of Piazzolla and the flute
Articulation is essential in the process of creating our tango language and it is a tool that we can use to further define our sound. In tango, the articulation even defines the sonority, in many cases. It is necessary to distinguish the rhythmic elements that are shared in all studies. And we will do it together! Remember, playing tango is not the same as speaking tango.  —Marcelo Alvarez
Supplementary materials:
Piazzolla´s tango studies: rhythmic and melodic reflections (3-page pdf here)
YouTube video:
---
Argentine flutist Marcelo Alvarez was born in northern Patagonia and began his musical studies under the guidance of Jorge Fontenla (in theory) and Jorge de la Vega (on flute). He later studied with Lars Nilsson at the National University of Cuyo, and in masterclasses with the Swiss flutist Félix Renggli.
Alvarez played with the Symphony Orchestra of the National University of Cuyo (10 years as substitute flute soloist and soloist piccolo), was a member of the Río Negro Chamber Orchestra, and is currently solo flute with the Neuquén Symphony Orchestra. He has toured Peru, participated in festivals and masterclasses in Chile and Brazil, and, since 2001, taught in workshops at Teacher Training Institute No. 805 in the Patagonian city of Trelew, Chubut. A founding director of the Municipal Youth Orchestra of the city of General Roca, Río Negro, he has been with the group since 2006.
He has written two methods for the flute (The Conscious Flutist and Flute Technique for the Music of Villa-Lobos), worked with the publisher Dasí-Flautas Ediciones in Spain, and presented his Conscious Flutist methodology at Yale and Rice universities and the Longy School of Music on a tour organized by the Pan American Cultural Exchange. In 2020 he has created his own flute academy in which he shares his Conscious Flutist methodology. https://www.facebook.com/marcelo.alvarez.5811/about
---

Back to Calendar