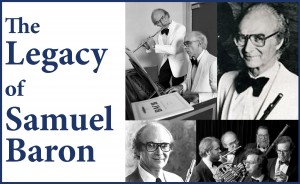 Date & Time
Sunday, October 20, 2019 - 5:30pm
Location
Engelman Recital Hall
Baruch Performing Arts Center
55 Lexington Avenue
  (entrance on E. 25th Street)
New York, New York
The Legacy of Samuel Baron
with Tara Helen O'Connor, Bart Feller, Katherine Fink, Sue Ann Kahn, Svjetlana Kabalin, Michael Laderman, and Patricia Spencer and colleagues
Soundscapes Three for flute quartet
 
Meyer Kupferman (1926-2003)
 Katherine Fink, Svjetlana Kabalin, Sue Ann Kahn, and Michael Laderman
 
 
 
Syrinx 
 
Claude Debussy (1862-1918)
Density 21.5
 
Edgard Varèse (1883-1965)
Patricia Spencer, flute
 
 
 
Duo for flute and oboe, Op. 13
 

Alberto Ginastera (1916-1983)

 Katherine Fink, flute; Marsha Heller, oboe
 
 
 
Sonata in B minor, BWV 1030 
 
Johann Sebastian Bach (1685—1750)
Tara Helen O'Connor, flute; Linda Mark, piano
 
 
 
The Art of Fugue, BWV 1080: Contrapunctus 14
 
J.S. Bach, arr. Samuel Baron
Bart Feller, flute; Adrian Morejon, bassoon
 
 
 
Michael's Suite (1983-1994)
 
Ezra Laderman (1924-2015)
Michael Laderman, flute
 
 
 
Ballade, Op. 288
 
Carl Reinecke (1824-1910)
Bart Feller, flute; Linda Mark, piano
 
 
 
Grand Quartet, Op. 103
 
Friedrich Kuhlau (1786-1832)
Katherine Fink, Svjetlana Kabalin, Michael Laderman, and Patricia Spencer
 
Program subject to change
Admission: Free to NYFC members, $25 for non-members, $15 for students and seniors (65+) at the door.
---
Bart Feller is principal flute of the NJ Symphony, NYC Opera, and Santa Fe Opera. He has appeared with the NY Philharmonic, Orpheus Chamber Orchestra, Bargemusic, and Chamber Music Society of Lincoln Center. He is professor of flute at Rutgers Univer-sity/Mason Gross School of the Arts and teaches in the Juilliard Pre-College Division.
Katherine Fink's career includes long tenures as principal flute with the New York Pops, Brooklyn Philharmonic, Queens Symphony, and Eos orchestra, associate member of the Metropolitan Opera orchestra, and member of many Broadway shows, the Borealis Wind Quintet, and Mostly Mozart Festival orchestra. She has taught at NJ City University and CUNY York College and coached orchestral and chamber music at the Verbier Festival.
Marsha Heller has performed with the American, Colonial, and Queens Symphonies, Dance Theatre of Harlem, Martha Graham Dance Company, Bronx Arts Ensemble, and NY Pops. She is a frequent guest with the Ogunquit Chamber Music Festival, Sea Cliff Chamber Players, and NJ Chamber Music Society. Heller teaches at Montclair State, Jersey City University, and William Paterson College.
Svjetlana Kabalin is a founding member and artistic director of the Sylvan Winds. She has served as principal flute of the New Philharmonic of New Jersey, New Jersey Ballet, and Paper Mill Playhouse orchestras and the Stamford, Jupiter, and Queens Symphony Orchestras. She earned her MM with Samuel Baron at SUNY Stony Brook.
Sue Ann Kahn was a founding member of the Waverly Wind Quintet, Bach's Uncle, the League of Composers Chamber Players, and the Naumburg Award-winning Jubal Trio. In 2009 she co-founded the League of Composers Orchestra. A former faculty member at Bennington College, Ms. Kahn taught flute and chamber music at Mannes College of Music and directed its Pre-College Program. She teaches in the Music Performance Program at Columbia and the Chamber Music Conference of the East.
Michael Laderman is a classical and jazz musician, composer, and teacher. He has played many concerts of new jazz at Zinc Bar, performed at Weill Recital Hall at Carnegie Hall as an Artists International competition winner, and was a winner of the 1986 NYFC Competition. Mr. Laderman holds a DMA from SUNY-Stony Brook, where he studied with Samuel Baron. www.fluteperformer.com
Linda Mark regularly performed with her mentor, Julius Baker, as well as with Jean-Pierre Rampal and William Bennett. She now plays with such artists as Jeffrey Khaner, Robert Langevin, and Bart Feller. She is a member of the collaborative piano staff at Juilliard.
Bassoonist Adrian Morejon is a member of the Dorian Wind Quintet, Talea Ensemble, Radius Ensemble, and IRIS Orchestra. He received the Theodore Presser Foundation Grant, second prize of the Fox-Gillet International Competition, and a shared top prize at the Moscow Conservatory International Competition. He is currently on faculty at the Curtis Institute, SUNY Purchase College, CUNY Hunter College, and Brooklyn College.
Tara Helen O'Connor, an Avery Fisher Career Grant recipient and two-time Grammy nominee, is a season artist of the Chamber Music Society of Lincoln Center. She regularly participates in the Santa Fe Chamber Music Festival, Music@Menlo, Spoleto Festival USA, and Chamber Music Northwest and has recorded for Deutsche Grammophon, EMI Classics, Koch International, CMS Studio Recordings, and Bridge Records. She studied with Samuel Baron at SUNY Stony Brook, earning a BA, MM, and DMA.
Patricia Spencer, flutist of the Da Capo Chamber Players, has premiered many major works, including works of Elliott Carter, Karlheinz Stockhausen, Thea Musgrave, and Shulamit Ran. She teaches flute and chamber music at Bard College/Conservatory and Hofstra University.
---

Back to Calendar