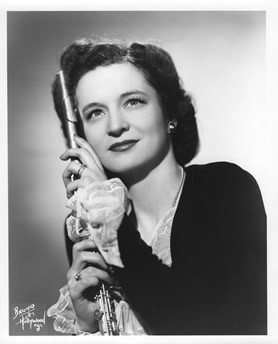 Frances Blaisdell (1912-2009)
The Club mourns the death of Frances Blaisdell, our loyal member for eighty years, on March 11 in Portola Valley, California. As a teenager, Frances studied with Ernest Wagner of the New York Philharmonic and in 1928 began her studies with Georges Barrère, first at the Institute of Musical Art and then at the Juilliard Graduate School. Considered his protegée, she made frequent duo appearances with him and, after he had a stroke in 1941 he chose her to take his place in the Barrère Trio. She later studied with Marcel Moyse and William Kincaid.
Although she was principal flutist of the National Orchestral Association, a training orchestra conducted by Leon Barzin, she found that an orchestral career was not a possibility for a woman in that era, and instead forged a successful career as a soloist and chamber musician. She made her solo debut with the New York Philharmonic at a children's concert in 1932, playing the Mozart D major concerto, and also appeared as soloist at Radio City Music Hall. She formed the Blaisdell Woodwind Quintet, whose other four members were all members of the Philharmonic (including principal clarinetist Alexander Williams, whom she married in 1937), the Blaisdell Trio of New York, and various other ensembles. She also played with the New Friends of Music, the Bach Circle, on Broadway, and as accompanist to Lily Pons.
Blaisdell did find orchestral positions as principal flute in the Phil Spitalny All Girls Band (see Victoria Balloon's article "All Girl Bands: Phil Spitalny and Frances Blaisdell") and the women's orchestras conducted by Ethel Leginska and Antonio Brico, and later was principal flutist of the New York City Ballet. In 1962 Frances Blaisdell became the first woman wind player to perform with the New York Philharmonic—as an "extra man."
Frances taught for many years at the Manhattan School of Music, Mannes, and NYU. In 1973 she "retired" to California, where she accepted an interim appointment as flute teacher at Stanford University. She continued teaching there until two months before her death, and in 2006 received the Lloyd W. Dinkelspiel Award for Outstanding Service to Undergraduate Education. She is, in fact, best known for passing on the French tradition as the teacher of several generations of American flute students, among them many members of the New York Flute Club, with whom she maintained lifelong friendships.
Chamber Music magazine wrote in 1992, "Every woman flute player in every major American orchestra, every little girl who pays the flute in a school band, has Frances Blaisdell to thank. She was first."
In 1992 the National Flute Association named Frances an honorary member, and two years later it honored her with its Lifetime Achievement Award. Her many performances for the New York Flute Club spanned more than sixty years, beginning in 1928, and culminated with her autobiographical presentation, First Lady of the Flute, in 1992, an event at which Jean-Pierre Rampal made a surprise appearance to introduce her.
She is survived by her daughter, Alexandra Hawley, who teaches flute at Stanford; her son, John Williams, of San Francisco; three grandchildren; and three great-grandchildren. The family has started a scholarship fund in her name to help pay for flute lessons for Stanford students. Contributions may be sent to Stanford University, with F. Blaisdell Lesson Scholarship in the memo line, and mailed to Mario Champagne, Stanford University, Department of Music, 541 Lasuen Mall, Stanford, CA 94035
We have re-posted the April 2005 Newsletter, which includes Barbara Highton Williams's fascinating interview with Frances. Tributes will be published in the newsletter and in the NFA's Flutist Quarterly in coming months. There was a celebration of her life at the NFA convention in August 2009, led by Nancy Toff. Obituaries for Frances have also appeared in the San Jose Mercury News and the New York Times. If you would like to contribute stories or photos, or for further information, please contact nancy.toff@oup.com.

Back to Member Obituaries