Ensemble Program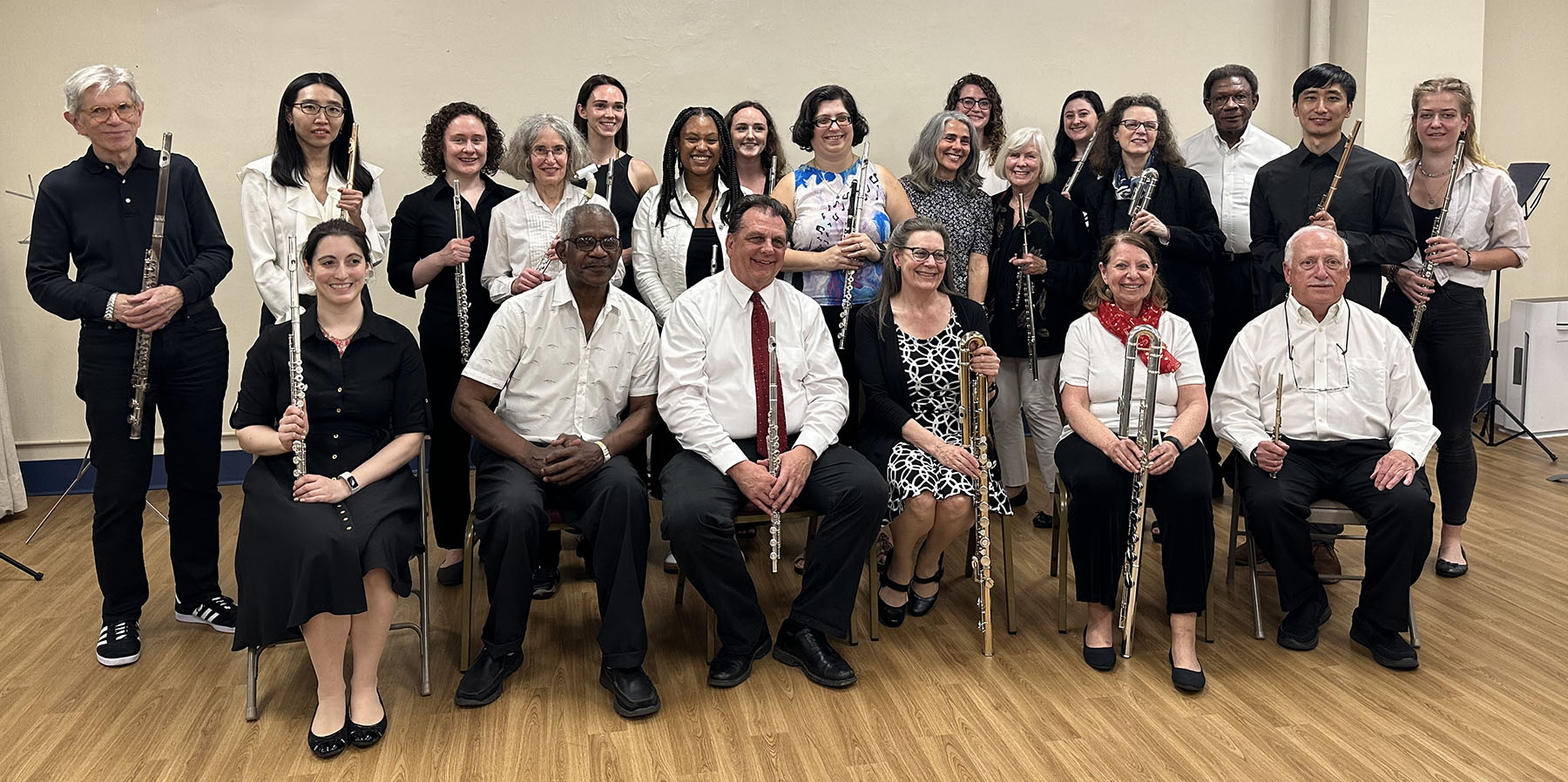 NYFC Ensemble participants at the May 21, 2023 concert          Photo: Jenny Cline
NY Flute Club Ensemble Program Reboot!
After a two-year pause, the Ensemble Program will resume in the fall. We meet once a month, usually on the third weekend, either Saturday or Sunday from 2:00-4:00 pm, September through April, and play a concert at the May Annual Meeting. We hope to resume rehearsals at Studios 353 at 353 W 48th Street. Dates will be finalized soon and posted below.
To join the ensemble:
You must be a current member of the NY Flute Club.
You must have proof of Covid-19 vaccination.
No audition is required. We accept all levels of players.
NOTE: We are starting fresh! If you wish to participate in the ensemble program (even past members) you must email Denise & Mark at: ensembles@nyfluteclub.org. Please include your name, preferred email address, and instrument (C flute, piccolo, alto flute, bass flute, contrabass). For new members, include a short note describing your playing level (high school, college, amateur, professional).
We will email parts in PDF files. If you need a hard copy, please let us know.
---
NEW as of December 2021! Interested in playing in a group of two to four or five players in a player's home? The NYFC has revived its matchmaking service for NYFC members interested in playing in a small ensemble. See the December 2021 NYFC Newsletter for details and/or contact Tereasa Payne at tereasapayne@hotmail.com.
---
Photos and reports of the NYFC Ensemble's activities in past seasons, starting with 2016-17, may be found here.
---
Meeting Schedule for the 2023-24 Season
| | | | |
| --- | --- | --- | --- |
| Date | Time | Location (if not Studios 353) | Event type |
| Saturday, September 23, 2023 | 2:00 - 4:00 pm |   | In-person |
| Sunday, October 15, 2023 | 2:00 - 4:00 pm |   | In-person |
| Sunday, November 19, 2023 | 2:00 - 4:00 pm |   | In-person |
| Sunday, December 17, 2023 | 2:00 - 4:00 pm |   | In-person |
| Saturday, January 13, 2024 | 2:00 - 4:00 pm |   | In-person |
| Sunday, February 18, 2024 | 2:00 - 4:00 pm |   | In-person |
| Saturday, March 16, 2024 | 2:00 - 4:00 pm |   | In-person |
| Sunday, April 21, 2024 | 2:00 - 4:00 pm |   | In-person |
| Sunday, May 19, 2024 | 2:00 - 4:00 pm |   | In-person |
---