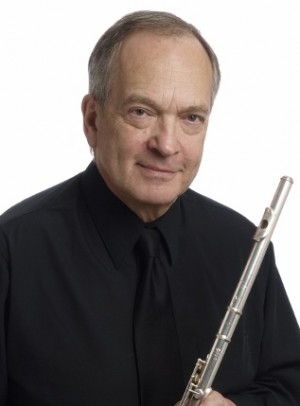 Paul Lustig Dunkel (1943-2018)
The Club mourns the death on January 14 of our longtime member Paul Dunkel, principal flutist of the New York City Ballet. A member of Music from Copland House, an ensemble he co-founded with the pianist Michael Boriskin, he was an active freelancer in orchestras, opera, and ballet in the city. Paul Dunkel performed frequently at the New York Flute Club, most recently in an October 2014 recital.  
In 1978, Dunkel co-founded the American Composers Orchestra and in 1989 was appointed resident conductor. Five years later he founded the New Orchestra of Westchester (later renamed the Westchester Philharmonic), an ensemble devoted to the performance of the classics as well as newly commissioned works. In 1998, Dunkel and the orchestra commissioned the composer Melinda Wagner to write a flute concerto for the orchestra's 20th anniversary. The work won the 1999 Pulitzer Prize for Music. 
Dunkel taught at the New England Conservatory, the Eastman School of Music, Queens College, Vassar College, the University of Connecticut, and the College at Purchase (SUNY). He recorded for the Nonesuch, Columbia, Opus 1, RCA, CRI, and Bridge labels. His recent CD Live in the Studio includes his transcription of Shostakovich's cello sonata and his own composition, Quatre Visions for four flutes.The latter work will be performed as part of a tribute program at the 2018 New York Flute Fair on February 25.
The October 2014 NY Flute Club Newsletter interview of Paul Dunkel by Tanya Witek may be found here.

Back to Member Obituaries