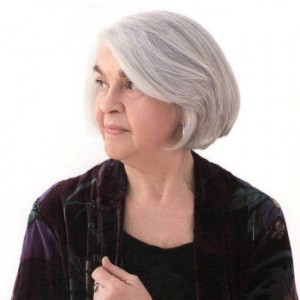 Katherine Hoover (1937-2018)
The Club mourns the death of flutist-composer Katherine Hoover on September 21. Katherine was a longtime member of the club and a former board member, and several of her works were premiered at NYFC concerts. 
Ms. Hoover attended the Eastman School of Music, where she earned a degree in music theory as well as her performer's certificate in flute. She holds a master's in music theory from the Manhattan School. Her main flute study was with Joseph Mariano and William Kincaid; she has given concerto performances at Lincoln Center and performed with ballet and opera companies in New York's major halls. She has played numerous recitals, both live and on radio and television, and recorded solo and chamber repertoire for Arabesque, Leonarda, CRI, Grenadilla, and Opus One. She has taught flute in the Juilliard Preparatory Department, and music theory at the Manhattan School of Music.
Katherine Hoover was the recipient of a National Endowment Composers Fellowship and many other awards and commissions, including the Academy of Arts and Letters 1994 Academy Composition Award, and a Lifetime Achievement Award from the National Flute Association. Her works for orchestra, chamber groups, and soloists have been widely recorded and published by Theodore Presser and Papagena Press. Her Kokopeli for flute has sold over 13,000 copies and been performed world-wide. Her flute concerto, Four Winds, was premiered with Mark Sparks at the NFA in Washington, DC in 2014 to a standing ovation. Four Winds has since been presented with Bonita Boyd at the Masterwork Festival and with Amy Porter by the Michigan Philharmonic. Ms. Hoover's Requiem for the Innocent was recently recorded and presented by the New York Virtuoso Singers, with brass, organ and percussion at New York's Trinity Church.
There have been over 60 performances of her orchestral pieces by groups including the Long Beach (CA), Harrisburg, Fort Worth, and Santa Fe Symphonies. Chamber groups including the Colorado Quartet, the Eroica Trio, the New Jersey Chamber Music Society, the Dorian and Sylvan Quintets, and the Amherst Saxophone Quartet; cellist Sharon Robinson, pianists Christopher Taylor, Anne-Marie McDermott, Joseph Kalichstein, and Mirian Conti; flutists Julius Baker, Carol Wincenc, Eugenia Zukerman, and jazz clarinet virtuoso Eddie Daniels have all featured her work. In January 1994, Ms. Hoover conducted the premiere of her Night Skies for large orchestra with the Harrisburg Symphony. In the January 1997 issue of Classical Pulse, Critic Leslie Gerber picked Hoover's Quintet da Pacem (Koch) as one of the five best recordings of 1996. In March 2011, the Michigan Philharmonic premiered her Turner Impressions. In March of 2013, the New York Flute Club sponsored a celebration concert of her work.
More information can be found in a New York Times obituary, as well as Zara Lawler's 2013 interview in the NYFC Newsletter.
---

Back to Member Obituaries