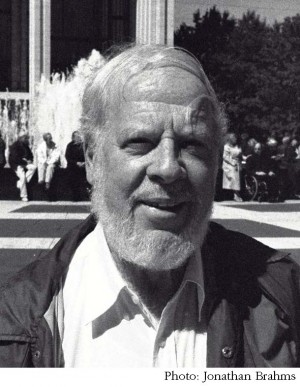 Gerardo Levy (1924-2019)
     Gerardo Levy, retired flutist of the New York City Opera, died in New York on August 10, 2019, at the age of 94. Levy was born in Berlin on October 23, 1924. His family was able to escape from Germany in 1938 two weeks before Kristallnacht and to settle in Buenos Aires. He never finished high school but became an apprentice pastry chef and window dresser to help the family. He started taking flute lessons from Bruno Bragato, a flutist at the Teatro Colon. A quick study, after three years he got his first job, playing in the ensemble of a "confiteria," a dessert shop. Levy was soon playing principal flute in a number of the city's orchestras and second flute next to his teacher at the Teatro Colon under many leading conductors. He was the youngest musician ever to play there and was affectionately nicknamed "Piojito" ("Little Flea").
One such conductor was Aaron Copland, who in 1956 brought Levy to Tanglewood on a full scholarship. He ended up going to Boston University, where he studied with Doriot Dwyer on a full scholarship. While studying in Boston he was able to play principal flute with the Springfield Symphony, forming a woodwind quintet with the other principal players.
     After graduation, Levy had the opportunity to play second flute for a summer at the Casals Festival in Puerto Rico. Julius Baker and Murray Panitz, who shared the principal chair, encouraged him to come to New York and offered to help him get established as a freelancer. He became principal flutist of the New York Festival Orchestra, the Brooklyn Philharmonia, and the New York Chamber Orchestra, and for many years was a member of the New York City Opera Orchestra. He was renowned for his thorough knowledge of the opera; says freelancer Karla Moe, "Gerardo speaks five languages fluently (and is often the instigator in changing some of the more staid Italian libretti into a more suitable Italian limerick for the orchestra pit)." He also played with the Symphony of the Air, Westchester Symphony, New York City Ballet, and Laurentian Chamber Players and freelanced in Buenos Aires when the opera was off.
     Levy was a champion of new music and gave many world premieres both in Buenos Aires and New York—including the US premiere of Nicolas Nabokov's Concerto Corale in 1967 and the South American premieres of Berio's Sequenza, Ginastera's Duo for flute and oboe, and Mario Davidovsky's Synchronism No. 1 for flute and tape. 
     In addition to performing he had many devoted private students. He taught flute and chamber music at Sarah Lawrence College and later at New York University. He served from 1975 to 1994 on the board of the New York Flute Club and often conducted its flute ensembles. One of his favorite activities was teaching, coaching and conducting at the Siena Summer Music Festival in Italy. 
     Bassoonist Donald McGeen, whose woodwind quintet Levy coached, remembers, "Gerardo was very concerned with balances, blend, and textures. You always had to keep the music flowing; to drag was a sin. He was a master at finding just the right tempo and feel for a section. One thing that I always took to heart was 'Bass rules the world.' When he would feel the need to conduct a section his hands would come up to eye level, he'd break into this wonderful grin and be dancing in his seat. The group never sounded so good as when he would lead us in this way."
     Levy was a founder and the conductor of the Caecilian Chamber Ensemble, an ensemble of strings, winds, brass, and piano that gave three or four concerts a year. The concerts were a rich variety of small ensembles of various combinations and usually included one or two larger pieces, which he conducted. Rehearsals were often at 11:00 pm, after concerts, operas, and shows. McGeen recalls, "The performers in these concerts were never paid; we all played for the love of music and Gerardo." He conducted the group for 51 seasons, and it continues, having completed its 55th season.
     Despite slowly progressive dementia, Levy got up and practiced his flute for two or three hours a day, six days a week—before he had his coffee. "If I can keep doing it, so can you!" he told a student. He could still solfège a score perfectly. The New York Flute Club has established the Gerardo Levy Education Fund in his honor.
     by Nancy Toff, based in part on the eulogy by Donald McGeen, August 14, 2019. 
More about Gerardo Levy can be found in the NYFC Newsletter: an 80th birthday tribute organized by Jonathan Brahms (October 2004) and a member profile (April 2001).

Back to Member Obituaries