NYFC Competition 2018 Winners
The 2018 New York Flute Club Competition was held on February 25 at the Flute Fair. Congratulations to the winners, to be featured in recital on our concert series on Sunday, March 18 at 5:30 pm:
1st prize: JiHyuk Park 
2nd prize: Hae Jee (Ashley) Cho 
3rd prize: Rebecca Chapman 
 
We would like to acknowledge all the talented young artists who participated and thank Kaoru Hinata, competition coordinator, and the distinguished panel of judges: Laura Gilbert, John Herrick Littlefield, Sanae Nakayama, David Ordovskiy, John Romeri, and Jeanne Wilson. 

Special thanks to Phil Unger and the Flute Center of New York for sponsoring the first prize.
---
JiHyuk Park (1st prize winner), age 23 and a native of South Korea, is currently pursuing a bachelor of music degree in flute performance at the Juilliard School, studying with Jeffrey Khaner. He started flute at age 12 and graduated from the Juilliard Pre-College in 2014. He was the winner of the NYFC's Young Musicians Contest (ages 15-17) in 2011, third prize of the Long-Island-based Friday Woodmere Competition in 2011, and second prize at the National Flute Association's High School Soloist Com-petition in 2013. Mr. Park was also chosen as a candidate for the live round of Prague Spring International flute competition in 2015. In December 2017 he performed in two concerts at Carnegie Hall as principal flutist with the New York String Orchestra Seminar. 
---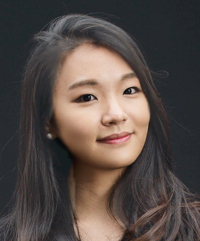 Hae Jee (Ashley) Cho (second prize winner), age 22, attended the Juilliard School's pre-college division from 2008 to 2014 as a student of Bart Feller and is currently pursuing bachelor and master of music degrees as a five-year accelerated student at the same institution, studying with Carol Wincenc. At Juilliard, Ms. Cho has played in the Juilliard Orchestra, Lab Orchestra, and New Juilliard Ensemble. She performed at Carnegie Hall's Stern Auditorium as principal flute of the New York String Orchestra Seminar in 2014 and 2015, was a soloist with the New Juilliard Ensemble at the 2017 MoMA Summergarden Series, and recently won first prize in the 2018 Flute Society of Washington's Collegiate Soloist Competition.
---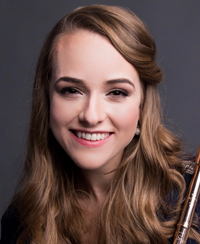 Rebecca Chapman (third prize winner), age 26, is the flute instructor at Utah Valley University. She received her BM from Carnegie Mellon University, studying with Jeanne Baxtresser, and her MM from the University of Texas at Austin, under the tutelage of Marianne Gedigian. A frequent studio artist, she has recorded flute tracks for Joseph and the Amazing Technicolor Dreamcoat, Newsies, Cats, Oliver!, and many other shows. Ms. Chapman is the flutist of the Alpine Chamber Winds and often appears with the Ballet West Orchestra. This summer she will be a faculty flutist at the 2018 InterHarmony International Music Festival in Germany. Ms. Chapman has won the Judges Commendation Award in the 2016 National Classics Alive Young Artists Competition and the Estelle Campbell Prize in the 2014 National Society of Arts and Letters Competition. She is currently under management as a soloist with Classics Alive Artists.
---

Back to NYFC Competition Archives