NYFC Competition 2020 Winners
The 2020 New York Flute Club Competition was held on Saturday, February 29 at the Flute Fair. Congratulations to the winners, who will be featured in recital on our concert series on April 19 at 5:30 pm:
1st prize: Jonah Murphy
2nd prize: Julie Nah Kyung Lee
3rd prize: Hunter O'Brien
 
We would like to acknowledge all the talented young artists who participated and thank Kaoru Hinata, competition coordinator, and the distinguished panel of judges: Melanie Bradford, Suzanne Gilchrest, John Lane, John Romeri, and Pamela Sklar. 
Special thanks to Phil Unger and the Flute Center of New York for sponsoring the first prize.
---
Jonah Murphy, age 20, is a sophomore at the Manhattan School of Music, where he studies with Michael Parloff. Past honors include awards from YoungArts, Alexander & Buono International Flute Competition, the New York Flute Club's Young Musicians Contest (ages 12–14 and 15–18), and the National Flute Association High School Soloist Competition (finalist). He has participated in masterclasses with Stefan Hoskuldsson, Nicolas Duchamp, Mindy Kaufman, Mimi Stillman, and, at Orford Music International Festival, with Robert Langevin, Julien Beaudiment, Michael Cox, and Jennifer Gunn. Also an active composer, Mr. Murphy has won awards from ASCAP, YoungArts, NextNotes, National Young Composers Challenge, Mata Jr., and the Chamber Music Society of Rochester [NY]. His former teachers are Laura Gilbert and Frances Brodeur (flute) and Kevin James (composition).
---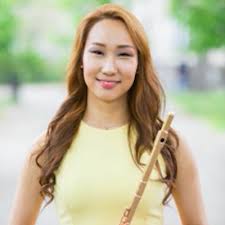 Flutist Julie Nah Kyung Lee, age 25, has performed throughout the United States and Asia. Lee has been a winner of the Camerata Artists International Competition and the Eisenberg Fried Woodwind Concerto Competition. She performed the Nielsen flute concerto with the Manhattan School of Music's Chamber Sinfonia with under maestro Jane Glover in 2019.
---
Hunter O'Brien, born in 1998, has won top prizes in the 38th Annual James Pappoutsakis Memorial Flute Competition and the 2020 Yamaha Young Performing Artists Competition. For his Boston recital debut in September 2018 he performed the Fenwick Smith Tribute Concert presented by the James Pappoutsakis Memorial Fund. He has performed across New England as a member of the Boreas Wind Quintet, a 2018 New England Conservatory honors ensemble. As a New England Conservatory Community Performance and Partnership Fellow, he provides lessons, workshops, and performances throughout Boston. Hunter performs as principal flute of the Boston Philharmonic Youth Orchestra and frequently performs with the Boston Philharmonic Orchestra. He is currently a senior at the New England Conservatory of Music, where he is a student of Paula Robison and a recipient of the Donna Hieken Presidential Flute Scholarship. He has also been a student of Joanna Cowan White of Central Michigan University.
---

Back to NYFC Competition Archives