Young Musicians Contest 2017
The 2017 Young Musicians Contest (YMC) was held on Sunday, February 12. We congratulate our winners and thank YMC coordinator Yeami Kim and judges Sanae Nakayama, Stefani Starin, and Mary-Ann Tu (for age categories 8 and under and 9–11) and Karen Bogardus, Justin Lee, and Amy Tu (for age categories 12–14 and 15–18). This year's winners, selected from a field of approximately 60 contestants, performed at a Flute Fair concert on March 12.
Our 2017 Winners
---
Age 8 and under: Taejin Shah
Taejin Shah, age 7, has been a student of Noelle Perrin for two and a half years. He won first place in the Mid-Atlantic Music Guild Spring Music Festival (2016) and second place in the Camerata Competition (2017). He likes soccer, skiing, basketball, swimming, and traveling. During his free time he loves to play with his three brothers. He performed Rentaro Taki's Moon over the Ruined Castle and Henri Ghys's Amaryllis with Elliot Roman at the piano.
---
Ages 9-11: Emily DeNucci, Thomas Vukic, and Albert Zhou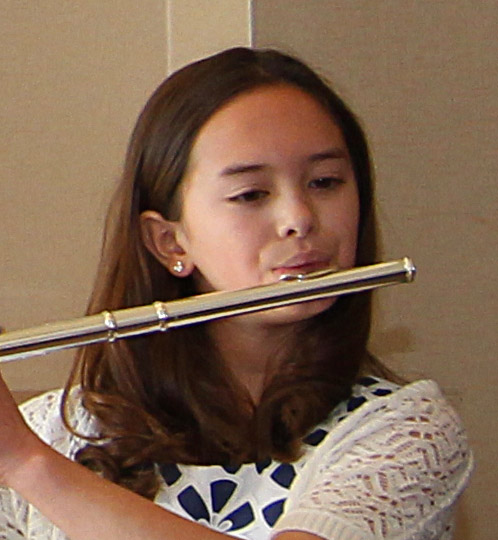 Emily DeNucci, 10, is a fifth grader at Somers (CT) Elementary School. She has studied flute with Greig Shearer at the Hartt School of Music Community Division for two and a half years. She plays flute in the Philharmonia Winds band (through the Hartt School), has taken piano lessons for five years, sings in church and school choirs, and likes to compose music on the side. Someday she would like to pursue a career playing flute in a symphony orchestra or composing music. Her other interest, besides music, is gymnastics. She is a Level 7 gymnast and trains at Daggett Gymnastics five days a week. She performed the second and third movements of J.S. Bach's Sonata in E-flat Major, BWV 1031 with Sophia Zhou at the piano.
Thomas Vukic, 10, is a fifth grader at Elisabeth Morrow School in Englewood, NJ. He has been studying flute for more than four years, the last three with Steven Kim at the New York Music School in Tenafly, NJ. He received an honorable mention in the 2016 Young Musicians Contest. He enjoys playing in multiple large and small ensembles at Elisabeth Morrow, where he also studies with Pat Zuber. As part of the orchestra he has performed at the New Jersey Performing Arts Center. Tommy also enjoys playing the piano, and has recently started playing the cello. He spends his spare time playing tennis, hanging out with his friends, and, of course, mastering the Xbox. He performed Genin's Carnival of Venice with Sophia Zhou at the piano.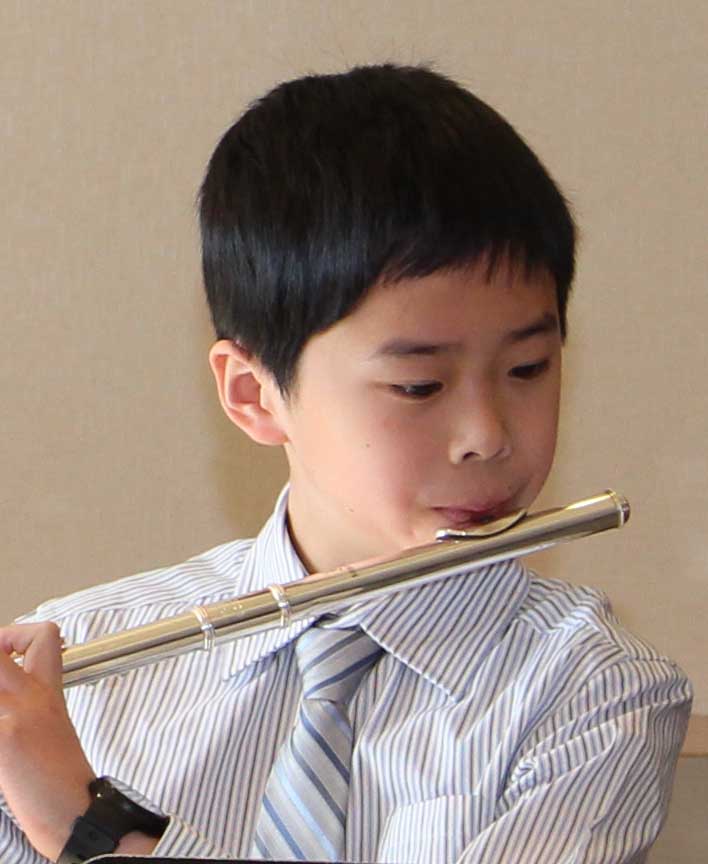 Albert Zhou, 11, was born in Princeton, NJ in 2005, in the same hospital where Albert Einstein died 50 years earlier. 2005 was also the centennial of the publication of Einstein's special relativity paper, plus his dad is a physicist, so this is how Albert got his first name. Albert started to play flute in 2014, and his teachers are Natasha Loomis and Guoliang Han. In the summer of 2016, Albert attended the National Flute Association convention in San Diego. Right after that, he participated in the first Asian wind instruments competition held in South Korea, winning a gold prize in the elementary school group. Other than flute, Albert's great passions are reading and basketball. He performed the first movement of J.S. Bach's Sonata in Eb Major, BWV 1031 with Sophia Zhou, at the piano.
 
---
Ages 12-14: Faith Shim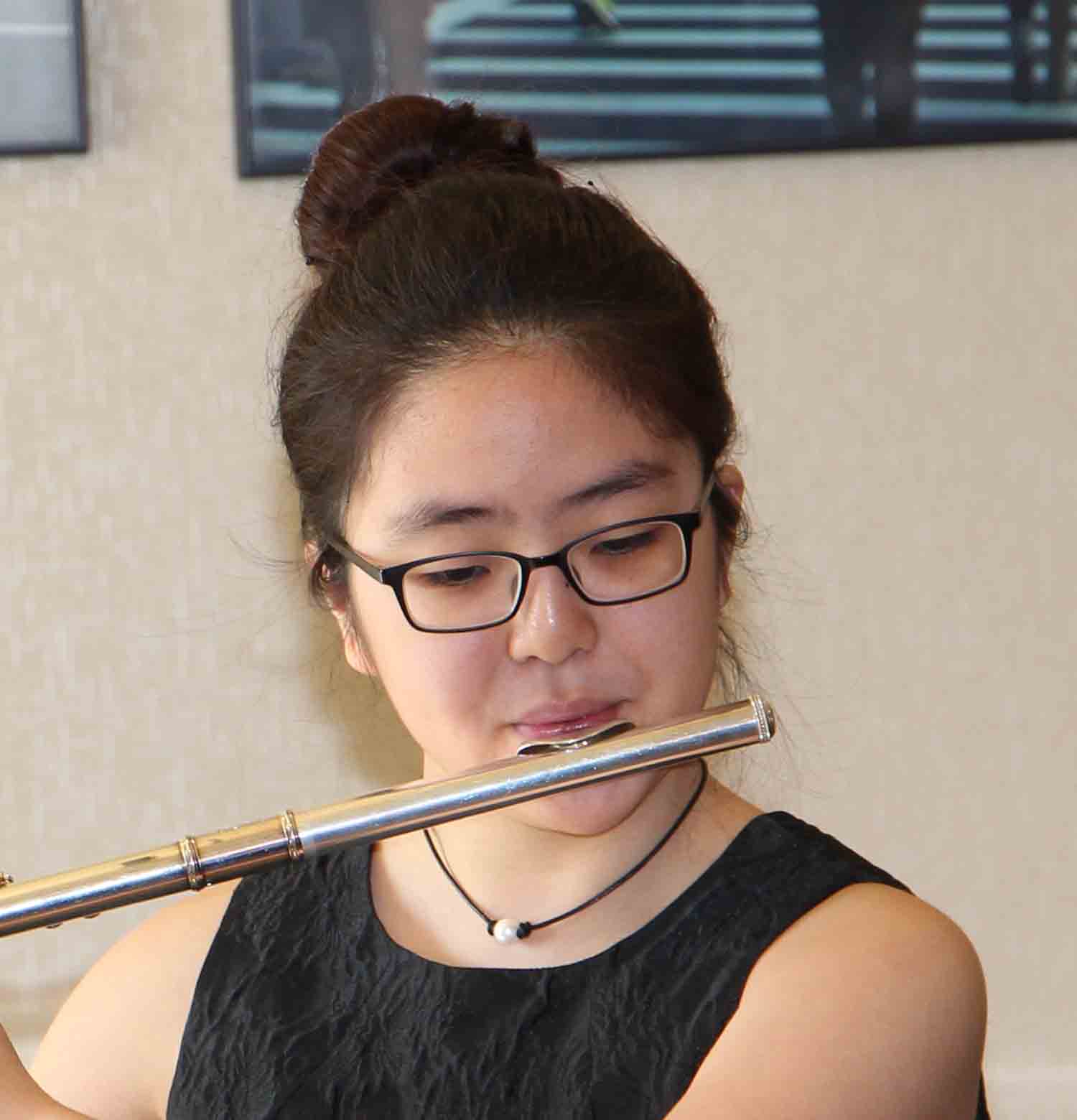 Faith Shim, 14, started to play the flute at age nine, studying with Soo-Kyung Park. She won second prize in the Camerata Artists International Competition (2017) and the New York Artists International Competition (2014) and honorable mention at the New York Flute Club Young Musicians Contest (2013, 2014). She was also invited to the 2013 Mid-Atlantic Flute Fair as an alternate in the FSW Student Honors Competition. She performed in joint recitals as a soloist at NV Factory (2014), Bruno Walter Auditorium (2014, 2017), and Weill Recital Hall (2013). As a member of Camerata Virtuosi Youth Ensemble and Camerata Woodwind Quartet, Ms. Shin performed at the Lillian Booth Actors Home, Chodae Community Church, Overpeck Park, and Bergen Performing Art Center. She was selected as a member of Middle School Band at the MEBCI (Music Educators Bergen County, Inc.) Festival in 2015-17. She attends Holdrum Middle School in River Vale, NJ. At the Flute Fair she preformed Hindemith's Acht Stücke for solo flute.
---
Ages 15-18: Audrey Emata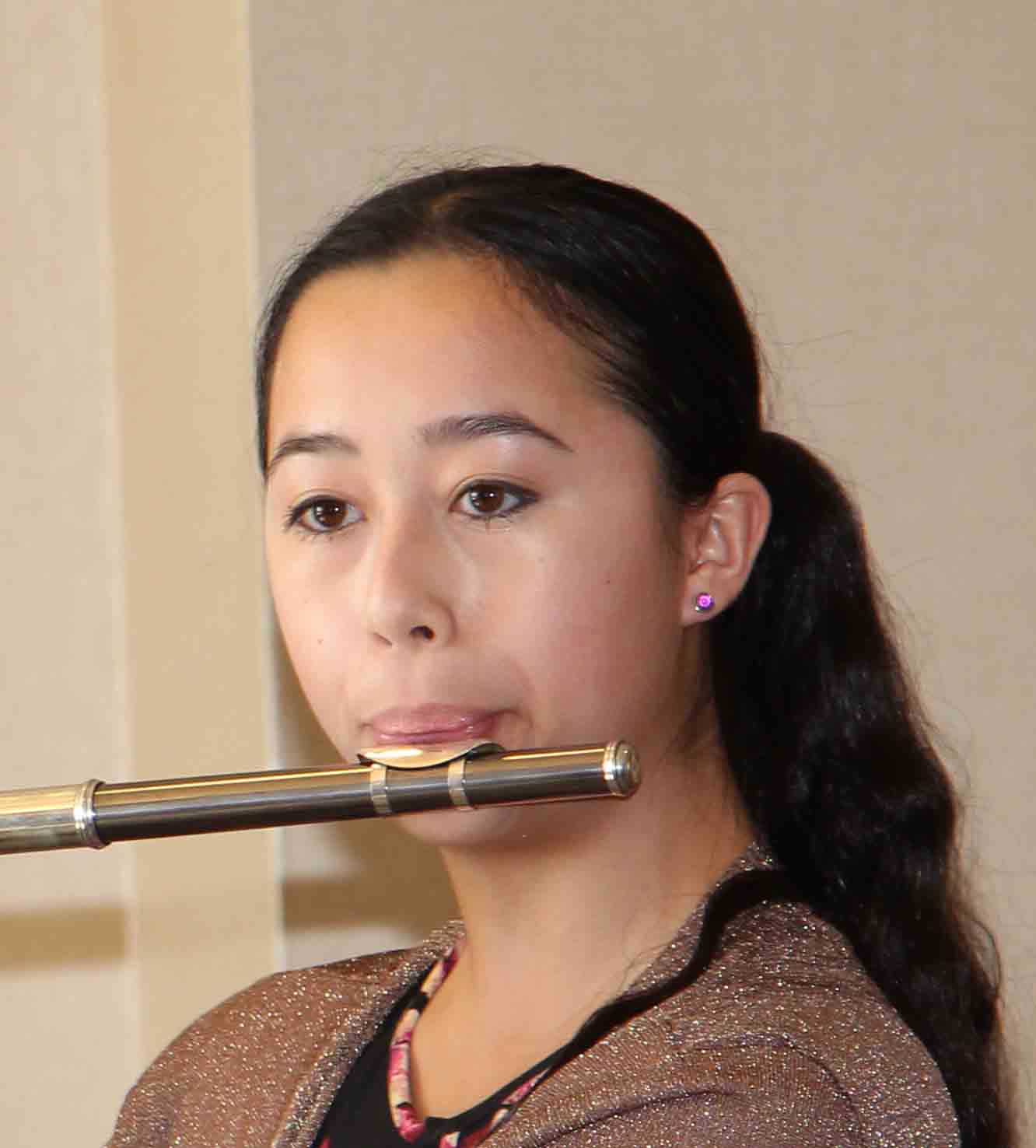 Audrey Emata, 15, studies with Demarre McGill and Bradley Garner in the Juilliard Pre-College Division. She debuted as soloist with the Philadelphia Orchestra at age 12 and has also soloed with the Allentown, Lansdowne, Ambler, Warminster, Old York Road, Delaware County, and Juilliard Pre-College orchestras. Ms. Emata is a three-time winner of the NYFC contest and a two-time winner of the Philadelphia Flute Society and Mid-Atlantic Flute Fair competitions. She has also won first prizes at the Pocono Flute Festival and the Asian-American Society International Competition. She was a finalist at the 2016 NFA high school competition and was featured on NPR's From the Top. Ms. Emata has received full scholarships to the Scottish International Flute Summer School and the 25th Anniversary Galway Festival in Switzerland. She lives in Wallingford, PA, and is a tenth grade honors student in the University Scholars Program of the Pennsylvania Leadership Charter School. At the Flute Fair she performed Briccialdi"s Carnival of Venice with Christina Emata at the piano.
---
Our Honorable Mention Winners
Age 8 and under: Julia Kunin (8)
Ages 9-11: Olive Glass (11), Sarah Jung (11), Sarah Chang (10),  Adam Bueno (9), Megan Huang (11)
Ages 12-14: Sadie Goodman (12), Emma Su (14), Jeni Kim (12)
Ages 15-18: Joanna Lau (15), Amelia Libbey (16), David Valderrama (16)

Back to Young Musicians Contest Archives (2014 - present)