Education & Enrichment
The New York Flute Club sponsors a multifaceted program designed to include students of all ages and levels who study flute in the greater New York City area. We have been developing relationships with schools, teachers, and music outreach programs. Special events have included pre-concert workshops and demonstrations, opportunities for students to meet the performers, and career development seminars. In addition, we offer scholarships for recommended students to attend the annual flute fair free of charge.
NYFC offers FREE masterclasses and workshops exclusively for NYFC members.
We thank the Friends of Flutes Foundation, Lifetime NYFC member Ardith Bondi, and other anonymous donors for their generous contributions to the Education and Enrichment Program. If you would like to support our education and enrichment efforts, click here.
---
Gergely Ittzes Masterclass
  Sunday, April 9, 2017
  1:00 - 4:00 pm
  Mannes School of Music
  Room 350 (3rd floor)
  55 W 13th St (between 6th and 5th Avenues), NYC
On Sunday, April 9, 2017, the Mannes School of Music collaborated with the New York Flute Club to present a masterclass with Hungarian flutist Gergely Ittzés. Accompanied by pianist Vladimir Rumyantsev, the performing flutists were Jackie Traish, Simona Donovan, Elena Tsachtani, Daphne Sasson, Minji Seo, and Elliot Roman. The class was held at the Mannes School of Music, 55 West 13th Street, NYC.
Throughout the class, Mr. Ittzés encouraged the performers to capture the meaning of the music through its structure. He advised them to play the music chord by chord, rather than note by note, illustrating this point dramatically, as he gently displaced Vladimir at the piano in order to 
realize the implied harmonies of the CPE Bach Solo Sonata in A Minor. Another highlight of the class featured him dancing the Csárdás while playing the third movement of Franz Doppler Fantaisie Pastorale Hongroise. Through both visual and verbal imagery, those of us in attendance were reminded that although the flute is a melodic instrument, there is much more involved in performance than just playing the melody. We were all treated to a most entertaining, educational, and thought-provoking musical experience.
---
Past Event: Mark Sparks Masterclass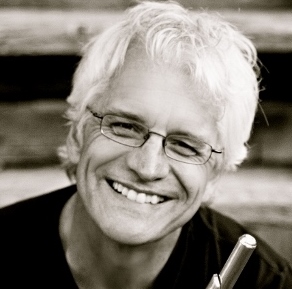 Sunday, April 2, 2017
  12:00 noon - 3:00 pm
  Mannes School of Music
  Room 750 (7th floor)
  55 W 13th St (between 6th and 5th Avenues), NYC
St. Louis Symphony prinicpal flutist Mark Sparks presented a masterclass co-sponsored by the New York Flute Club and the Mannes School of Music. Accompanied by pianists Vladimir Rumyantsev and Artyom Pak, the performing flutists were Denis Savelyev, Petra Rivero, David Ostrovsky, Amelia Libbey, Samuel Levine, and Hunter Green. The class took place in Elebash Hall, Mannes School of Music, 55 West 13th Street, NYC. There were 25 people in attendance.
Mr. Sparks' approach to the masterclass was focused on what the performers were doing well. He used each performance as a vehicle to share with the people in the audience what specifically the performers were doing to make their performances so good. He pointed out that in performing, intent is the key. Whether the concept is a certain tone, phrase shape, character, or overall architecture, the quest for the communication of this idea involves and engages the audience in a certain way in real time. It was a wonderful way to describe the artistic process as an experiential event. Mark Sparks was supportive of the masterclass performers, and inspirational to those in attendance.
---
Past Event: Sarah Frisof Pre-concert Clinic
Sunday, December 4, 2016
4:00 - 5:00pm
Engelman Recital Hall
Baruch Performing Arts Center
55 Lexington Avenue (entrance on E. 25th Street)
New York, New York
Equally at home in the solo, chamber, and orchestral stages, Sarah Frisof is a passionate flutist and educator. As a soloist, Ms. Frisof won second prize in the 2008 National Flute Association Young Artist Competition and was a semifinalist in the 2009 Kobe International Flute Competition. Ms. Frisof has concertized throughout Europe and Asia, including a 2014 concerto performance of the Mozart Flute Concerto in G Major with the Cheongju Symphony Orchestra in Cheongju, Korea.
---
Sunday, November 6, 2016
4:30 - 5:00pm
Engelman Recital Hall
Baruch Performing Arts Center
55 Lexington Avenue (entrance on E. 25th Street)
New York, New York
A discussion and demonstration of the similarities between baroque and klezmer flute performance, plus petting zoo of early flutes, including traverso and 19th century flutes.
---
Sunday, October 23, 2016
5:30pm
Ernst C. Stiefel Concert Hall, The New School
Arnhold Hall, 4th floor
55 West 13th Street, NYC
Ruth Cunningham is a classically trained musician, a sound healing practitioner, and a founding member of Anonymous 4. She combines these skills to improvise music that connects people to the healing and spiritual power of music. She specializes in early music performance as well as improvisational sacred music from varied spiritual traditions in both liturgical and concert settings. With Anonymous 4, she performed in concerts and festivals throughout the United States, Europe, and the Far East, and made 13 recordings. Ms. Cunningham's most recent CD releases are Light and Shadow: Chants, Prayers and Improvisations and Harpmodes: Journey for Voice and Harp. She has released two CDs of multi-faith chants with colleague Ana Hernandez: Blessed by Light and  HARC: Inside Chants. She has also performed and recorded renaissance music with Pomerium and is a regular member of the choir of St. Ignatius of Antioch in New York City. Ruth received a bachelor of music in performance of early music from the New England Conservatory of Music and taught recorder and renaissance flute at the Amherst Early Music Workshops for 16 years.
---
Sunday, April 3, 2016
New York Flute Fair
Philippe Bernold, known throughout Europe for his sensitive and virtuosic performances and  brilliant teaching, will share his insights and expertise in a masterclass at the Flute Fair, April 3.  Interested flutists of all ages who would like to participate should submit a biography and a CD or link to an audio or video performance, including two contrasting pieces or movements by February 26 to Yevgeny Faniuk, faniuk@hotmail.com, 209 Bennett Avenue #5B, New York, NY 10040 . Be sure to include contact information in your bio. 
---
Past Event:  Alberto Almarza Pre-concert Workshop
Flute Repertoire and the Music of the World
Sunday, November 22, 2015
4:00 - 5:00pm
Engelman Recital Hall
Baruch Performing Arts Center
55 Lexington Avenue (entrance on E. 25th Street)
New York, NY


The flute is one of the most varied and widespread instruments in the world, going back tens of thousands of years in many societies. As a result of the multiple types of flutes and the diversity of their musical and social role throughout the world, an amazing repertoire of timbres and playing techniques have been developed, preserved by flute players of native cultures.  Many of these techniques arose from the desire to evoke nature, imitating birdsongs, wind and water.  Others came into being as an attempt to produce sounds that would have healing powers and communicate with sacred spirits.
There has been a long and fruitful connection between world music and the development of our own flute repertoire, from Bach and Debussy to Messian and Crumb. In fact, most of what we refer to as "extended techniques" in Western flute music has been part of traditional music from around the world for thousands of years. In this pre-concert workshop, I will discuss these ideas and illustrate them with demonstrations on world flutes from my extensive collection.—Alberto Almarza
---
Past Event: Masterclass with Mark Sparks, flute, and Linda Mark, piano
Friday, December 12, 2014
2:00 - 4:30 pm
Studios 244
244 West 54th Street, 10th Floor
New York, NY


Mark Sparks is coming to New York!  He is the principal flutist of the St. Louis Symphony Orchestra and is recognized for his colorful tone, spirited phrasing, and charismatic style (described by the Denver Post as "mesmerizing"). Mr. Sparks is an artist-faculty member of the Aspen Music Festival and School, where he teaches an annual studio of the nation's top talent, and is principal flutist of the Aspen Chamber Symphony.
Admission: FREE for NYFC members
---
Past Event: Nicole Mitchell Workshop
  Sunday, November 23, 2014
  4:00-5:00 pm.
  Engelman Recital Hall
  Baruch Performing Arts Center
  55 Lexington Avenue (entrance on E. 25th Street)
  New York, NY
Flutist/composer/improvisational flutist Nicole Mitchell will share her signature improvisational concepts and techniques in a workshop entitled "Breaking Boundaries with Experimental Flute Improvisation: an Inside Approach." Free for all Flute Club members, this event has a special One Dollar admission fee for all students! All ages and abilities welcome. Bring your flutes!
More about Nicole Mitchell can be found here.
---
Past Event: Jean-Louis Beaumadier Masterclass
Monday, October 20
7:00-9:30 pm.
Mannes College
Goldmark Hall 3rd Floor
150 West 85th Street
New York, NY
Beaumadier studied flute with Joseph Rampal at the Marseille Conservatory and continued his studies at the National Superior Conservatory in Paris under the stimulating teaching of Jean-Pierre Rampal. Following his studies, he performed as piccolo soloist with the National Orchestra of France for twelve years, during wich time he performed under the batons of such renown conductors as Sergiù Celibidache, Leonard Bernstein, Lorin Maazel, Seiji Ozawa, Karl Böhm, Pierre Boulez  and others. Jean-Pierre Rampal wrote about Beaumadier:  "The Paganini of the piccolo ....endowed with marvelous technique, he stands out, thanks to his winning personality and his developed artistry. It is a pleasure to listen to him." 
Beaumadier has appeared as guest soloist with the Orchestre National de France, Orchestre Jean-François Paillard, Orchestre d'Auvergne, Orchestre de Chambre de Tours, Orchestre des Jeunes du Venezuela in Caracas, Brussel Chamber Orchestra, Wiener concert verein, Orchestre de Cannes, Orchestre de Picardie, "Ensemble orchestral de Marseille,  Ensemble "la Follia " de Mulhouse, Le "Concert Buffardin," Les Musiciens de France," Orchestre de Bohème and others. Much in demand as a piccolo soloist, he performs in Ireland, Israel, England, Japan, the United States, Belgium, Germany, Senegal, Croatia, Spain, Austria, Brazil, Venezuela, Costa Rica  and Italy as well as over one thousand concerts throughout France. He also performs frequently as soloist on radio and television. Beaumadier has recorded twenty CDs.
This masterclass is presented in collaboration with the Mannes College The New School for Music.
---
Past Event: Gergely Ittzés Masterclass: A Silver Lining
 
Gergely Ittzés
Tuesday, February 25, 2014
6:30pm-9:30pm
Engelman Recital Hall
Baruch Performing Arts Center
55 Lexington Avenue (entrance on E. 25th Street)
New York, NY
Do you remember Hungarian flutist Gergely Ittzés' insightful Doppler presentation last November amid the noisy blowers of the rehearsal room at Baruch? Do you recall his exquisite pianissimo phrases despite the noise of the adjoining theater? The Baruch Performing Arts Center has offered him a second chance to share his artistryGergely's masterclass is geared for advanced high school and college students.
Open to all NYFC members, admission is free. Auditors are welcome. Performers will be chosen by teacher recommendation. Teachers and/or students, please contact info@nyfluteclub.org for more information.
---
Past Event: Ian Clarke Workshop
 
Sunday, February 2, 2014
 4:00pm
 Engelman Recital Hall
 Baruch Performing Arts Center
 55 Lexington Avenue (entrance on 25th Street)
 New York, NY

Flutists of all ages, bring your flutes. International Flutist Ian Clarke is coming to New York and wants to play flute with you. No need to prepare any specific music. Ian Clarke will teach everyone simple melodies and rhythms and help put them together to create a spontaneous musical composition. 

The workshop is free for New York Flute Club members; $15 for students who are not members. Admission includes Ian's concert at 5:30pm that day. 
Ian Clarke is acknowledged as one of the leading player/composers in the flute world. In his career he has performed in genres ranging from classical opera to a guest appearance with rock group Jethro Tull/Ian Anderson. His compositions have been performed across five continents on stages ranging from London's South Bank to the Glastonbury Rock Festival and have been featured in four consecutive BBC Young Musician Woodwind finals. These published works are establishing themselves as some of the most exciting flute repertoire of today and are being embraced by internationally acclaimed performers, teachers, colleges and students alike.
Videos and Photos from Ian Clarke's Workshop and Concert
Credit: David Pressler
In the workshop, Ian Clarke demonstrated a number of extended techniques that he taught to the assembled participants. Hear the group integrate the techniques with some simple melodies and rhythms to create a spontaneous musical composition. In the concert that followed, with pianist Dianne Frazer, he performed seven of his flute compositions and Taffanel's Fantaisie sur Der Freischutz. Hear a segment of the concert.
---
Past Event: Jamie Baum Workshop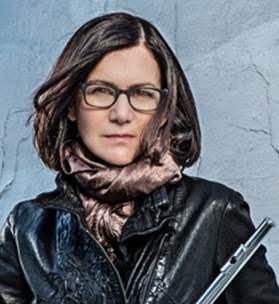 Jamie Baum
Sunday, December 15, 2013
4:00pm - 5:00pm (prior to her concert)
Engelman Recital Hall
Baruch Performing Arts Center
55 Lexington Avenue (entrance on E. 25th Street)
New York, NY

Jamie Baum will present her workshop, "A Fear-Free Approach to Improvisation for the Flute" prior to her concert at 5:30pm at Engelman Hall.
---
Past Event: Special Presentation by Gergely Ittzés
 
Gergely Ittzés
Sunday, November 10, 2013
4:00pm - 5:00pm (prior to his concert)
Engelman Recital Hall
Baruch Performing Arts Center
55 Lexington Avenue (entrance on E. 25th Street)
New York, NY
Prior to the concert, Mr. Ittzés will give a presentation on the musical style of Franz Doppler, with special focus on Fantaisie Pastorale Hongroise. Contact info@nyfluteclub.org, if you would like to perform in this class. 
Hungarian gypsy music (not the same as the Hungarian folk music), which effected most of Doppler's music, has a living tradition still today. The basic band consists of 1 or 2 violins, a viola, double bass and dulcimer (cimbalom). If there is a wind instrument joining them, it is usually the clarinet (replaced here with flute). This style has a lot of improvisational elements which you can hear on this recording, too, especially in the accompaniment. It was recorded for the CD "Flute For Four" published by the Fon-Trade Music including tracks by András Adorján, Gergely Bodoky, Imre Kovács and Gergely Ittzés, all playing on the same golden flute. www.fontrade.music.hu, www.ittzesgergely.hu
 
    
 
---
Past Event: Masterclass with Raffaele Trevisani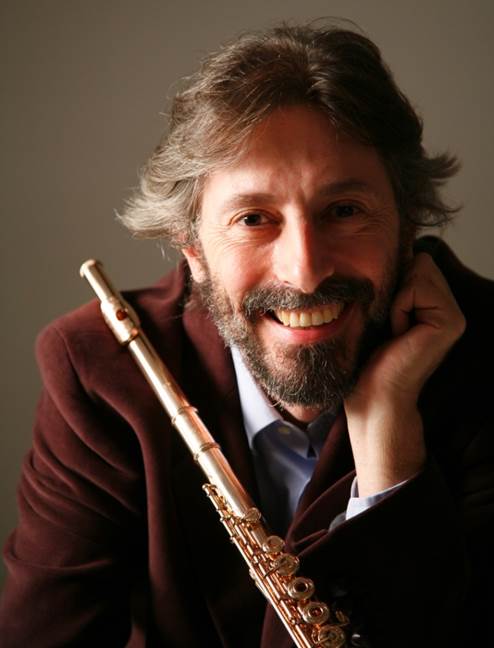 Raffaele Trevisani
Saturday, October 12, 2013
12:00pm - 3:00pm
92nd Street Y School of Music, Room S251   
1395 Lexington Avenue
New York, NY
 
 The participants of the class were Morgan Pappas, Lauren Osaka, David Ordovsky, Mitzy Nonaka, Shannon Hara, Rachel Susser, Coreisa Lee, and Michelle Stockman.
   
Photos by Zach Hicks from Raffaele Trevisani's masterclass.